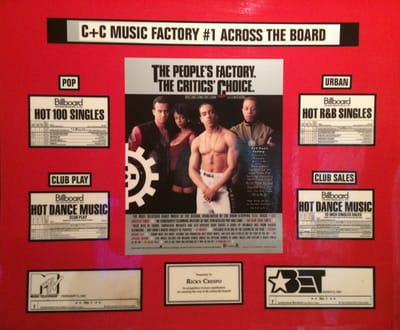 My Name is Ricky Crespo, I currently work under the name Anirhythm. I am a career music producer with an
award-winning discography
, now an independent music artist and more recently a CG artist. I have pro credits on artists like, Whitney Houston, Madonna, Mariah Carey, Taylor Dayne, James Brown, Michael Jackson and Sir Mix-A-Lot to name a few.
Growing up, music always was a big part of my family. After work my father would be home playing his vibraphones or piano and my mother would be singing as she did her chores around the house. They were never professional, but their passion and love for music would rival that of any professional. I can clearly remember being in diapers, crawling under the vibraphones when my father would practice. Fun Fact - my original interest was in science, I grew a love for it after I tried to fix my father's amp with a butter knife, lol. I was just a creative and curious child. I loved learning how things worked and inventing something.. My mother died of lupus at a time that very little was known about the disease, she suffered for many years. The only way i was able to cope with that pain, was with music, this was the beginning of my sincere appreciation (need ?) for music and through the years as I learned more, it only grew stronger, but make no mistake, I loved computers ever since I got my first pc xt - I was accepted to pace university 2x for a computer science major but sadly my mother passed away in my 1st mid-semester, my father went through a big financial struggle with medical bills not covered by insurance, and I simply couldn't afford to go to pace - my mind was lost and heartbroken at that point anyway. The music got louder, and I got lost (hid ?) in it.
I started as a DJ at a young age (15) with my cousins and friends. NYC at the time was having a music revolution, and I lived in an area of the Bronx where some of the biggest legends in hip hop and dance music were just getting started. I met hip hop when it was just a mixtape on a portable radio. I got to see Grandmaster Flash and the Furious Five performing live in the schoolyard across the street from where I lived during the summer, Strafe "Set it Off" and the Zulu Nation crew at a small local club I was interning at. My cousins, friends, and I would sneak into now legendary clubs like the Paradise Garage, The Loft, Bonds international to name a few. I was blessed to be at the center of a Music Revolution that changed the world and got to be a part of it when I became part of the
C&C Music Factory
Production team. While I call myself a career producer, I was whatever the team needed me to be and was fortunate to learn much of my craft from working with some of the biggest names in studio music production. It's been a non-stop learning adventure and still is. Prior to my career in the Music industry, in between college, I worked full time at a law firm which I continue to do freelance work as a music consultant / paralegal, they are dear friends who helped me learn a ton about copyrights, litigation, and royalties.
My life in the music industry has been a wild one, rich with many life-changing stories. For brevity fast-forward to the present where I am now an independent self distributed music artist who learned CG / Animation to make graphics for my music releases, at least that's how it started. It has since become a major part of who I am as an artist, in an adventure to bring more CG / Animation to the EDM / House Music / Dance Music scene. I'm also a DJ, music promoter, and a gamer, which greatly adds to my passion for music and visual art in the Digital Era.
My story is an ongoing saga and this bio will be updated over time to reflect that (and correct any grammatical errors as I find them, lol ).
Smile, enjoy your life and be happy, that's why I do this.
Much Love,
Ricky Crespo
Mission Statement -
Giving humanity a reason to smile and celebrate life.
My Blog -
Intellirhythm
"Igniting creativity through the power of AI and technology "
https://anirhythm.wordpress.com/